Report: Vick OK'd for home confinement
Comment
Email
Print
Share
Associated Press
RICHMOND, Va. -- A government official says imprisoned NFL star
Michael Vick
has been approved for release to home confinement.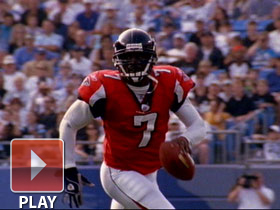 NFL.com Video
The No. 4 mobile quarterback of all time is Michael Vick.
Vick's lawyers have said they expected him to be moved any day into a halfway house in Newport News, Va. But the official says there's no bed space, so Vick could be released to his Hampton, Va. home as soon as May 21st.The official has knowledge of the case but requested anonymity because the individual was not authorized to discuss the matter publicly. The official says Vick will be on electronic monitoring and will only be allowed to leave home for activities approved by his probation officer.
The former
Atlanta Falcons
quarterback is serving a 23-month sentence at the federal penitentiary in Leavenworth, Kan., for a dogfighting conspiracy.
Report: Michael Vick OK'd for release to halfway house - ESPN